Posted by MyPoolStore Staff on 12th Jul 2016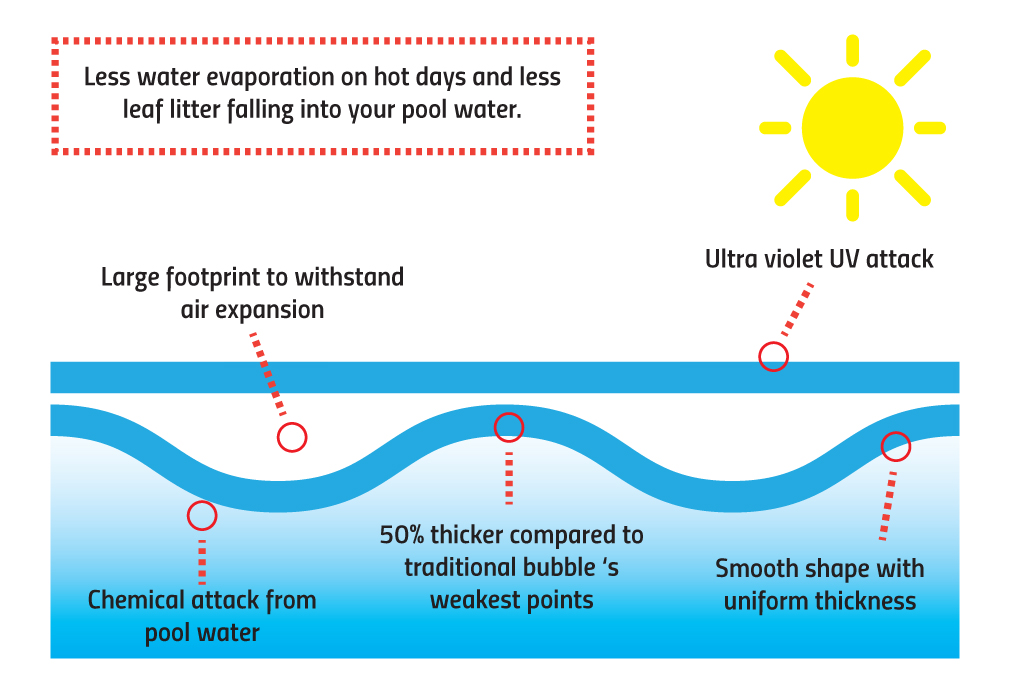 What is GeoBubble™ technology?
GeoBubble is an innovative pool cover material using a bubble shape that has been scientifically designed to increase the expected lifespan of the swimming pool cover material by up to 25%.
The science behind GeoBubble technology
Swimming pool covers are typically exposed to high levels of Ultra Violet (UV) radiation and chemical attack. GeoBubble is a material designed specifically for this environment, making the cover more resistant to these attacks and enabling a longer lifespan.
To understand the science of GeoBubble, it helps to look at the traditional bubble material used for pool covers. Originally their design was developed and adapted from the packaging industry, which is a high-volume, low-quality packaging bubble material with a short lifespan. Because of this, traditional bubbles have several inherent weaknesses in their design, including thin points and high residual stress areas. Thin points in a bubble design create weak points which are quickly broken down by UV rays and chemical attack. The degradation process is accelerated in areas of high stress as these areas are under constant strain. This results in the bubble material breaking down and will ultimately cause the premature failure of the pool cover.
This is because of the inherent weakness within the bubble design produced by stress created in the material during manufacture. The angular profile of the traditional bubble design mould forces the material to move against the polymers natural flow characteristics applying stress which results in a thinning of the material and areas of high residual stress.
The GeoBubble has been designed to elevate these stresses during the moulding of the bubble profile. The geometric bubble allows the material to be formed without fighting the polymers rheological properties resulting in a material with a more uniform thickness, minimising the residual stress within the polymer structure.
GeoBubble's unique features and benefits:
Unique patented design of two bubbles joined together by a structural waistline centre section.
No sharp corners that could result in thin or weak points in the design.
No stress points due to the bubble's smooth interconnected curves.
50% thicker than a traditional bubble material.
Increased resilience against UV rays and chemical attack.
Why does the GeoBubble shape have a large surface area?
The GeoBubble design has a much larger footprint than most traditional bubble materials to allow for expansion of air in the bubble shape. The stiff waistline section makes the bubble strong enough to hold expanding air and will not stretch and burst under pressure. The large footprint also acts as an insulator, retaining heat in the pool, plus helps the cover stick to the water so it cannot be blown off the pool.
What is a stabilisation package?
Ultra Violet (UV) radiation is emitted by the sun and is partly absorbed by the atmosphere. UV light is destructive not only to human skin but also many man-made materials, including polyethylene and plastic products. Unless materials are specially treated, over time they become faded and brittle due to the exposure to UV light and chemicals. Additives are required as the bubble design alone will not stop premature failure of a swimming pool cover. In co-operation with suppliers and UK University partners, we have developed the best additive, stabiliser and anti-oxidant package available. This, combined with the unique bubble design, dramatically increases the lifespan of the swimming pool cover material by making it more resistant to UV light and chemical attack.
The history behind GeoBubble's development.
The unique bubble design spent over five years in the research and development stage, in collaboration with London Metropolitan University and the University of Brighton. This synergy between academic and industrial knowledge and the pooling of resources has resulted in a highly effective product at the top of its game. In short, GeoBubble has marked a new era in high performance pool covers that offer both improved product longevity and maximum savings.
"The new GeoBubble design has been engineered to give increased stiffness to the form and increased life for the product. This has been done after careful analysis of the shape, material and manufacturing process. The final bubble form is attractive and also has more uniform wall thickness and much less internal stress"
Dr Mathew Philip, The Polymer Centre, London Metropolitan University
Why use a swimming pool cover?
1. Save water, energy and chemicals
Not all swimming pool covers are the same. Performance varies depending on the cover type. For the highest performance, opt for premium GeoBubble swimming pool covers from the Guard range.
These are produced using two-ply polyethylene material with colour pigments as well as additives and stabilisers to strengthen and protect against UV rays, solar heat and pool chemicals. The bottom layer makes up two thirds of the material and is formed into air cells that allow the cover to float on the water and insulate against colder night-time air temperatures.
2. Save water
Swimming pool covers eliminate water evaporation by over 98%. Not only does the pool become more water friendly and cheaper to top up, it also saves a vital natural resource.
Research carried out in collaboration with two UK Universities showed that, in the UK, for an average sized pool of 4 × 8m, the evaporation loss is approximately 32,000 litres of water per year. This equates to approximately 400 baths! In hotter climates and windy conditions, evaporation rates are far higher so one can expect higher savings accordingly.
3. Save energy
A swimming pool cover can reduce energy consumption by up to 50%.
During the day, a GeoBubble cover increases the water temperature by up to 4°C. This is achieved by the sun's energy passing through the cover or by being absorbed by the material, heating the top layer of the water (which is in direct contact with the cover).
A swimming pool cover also helps retain heat at night. The material acts as an insulator, preventing the cooler air from making direct contact with the water and dropping its temperature.
The combination of heat generation during the day and heat retention at night dramatically reduces the pool's energy consumption.
It is also important to note that water evaporation is by far the greatest source of heat loss for swimming pools, responsible for up to 70% of the heat lost. Research shows that by using a swimming pool cover on an average-sized heated pool in the UK (4m x 8m), one can save up to 5000 kWh of electricity every year!
4. Save chemicals
Standard pool covers will reduce chemical consumption by up to 50%. This is due to two key factors:
1. With a pool cover, leaves and other debris collect on the cover, not in the pool water. Eliminate the debris in the water and chemical input can be lowered.
2. When pool water evaporates, so do the chemicals in it. Stopping evaporation with a pool cover means chemicals work more effectively and input can be reduced without impacting water hygiene. A cover also makes it easier to keep pH levels balanced according to industry recommendations.
Research shows that by using a swimming pool cover on an average sized UK pool (4m x 8m), up to 50% less chemicals are required. This equates to approx. 8kg of chlorine!
When to use a pool cover
To maximise the benefits of a swimming pool cover, the pool should remain covered whenever it is not in use. Always recover the pool immediately after swimming. (And never swim with a pool cover on or partially on the pool!)
Environmental benefits of pool covers
With the above energy, water and chemical savings, a cover using GeoBubble™ technology creates a far more eco-friendly pool with a reduced carbon footprint.
At the end of its lifespan, a GeoBubble cover is 100% recyclable (Grade 4 LDPE recycling).
GeoBubble technology combined with our high performance 'Guard' materials will give a longer lasting cover with the highest energy and resource saving efficiencies available. These materials offer the best solar gain, algae inhibition, or heat reflection benefits to suit your swimming pool needs.
To view our range of pool covers, visit our pool cover product page at the following link: http://mypoolstore.com.au/products/pool-covers/